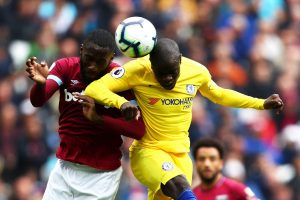 The Blues were unable to get maximum points in their London derby match against WestHam but head Coach, Maurizio Sarri, seems comfortable with the shared point. The resurgent WestHam side, who got their first three points of the new campaign last weekend, gave the match all they had.
They kept things so tight for Chelsea that it was almost impossible for Chelsea to get  a shot at their goalkeeper. The Blues had to resort to long range efforts which didn't really bother their shot stopper.
Sarri, at the end of the match while fielding questions from journalists revealed that, he had envisaged such approach from WestHam. He also conceded that he knew that the match would be a very tight one.
See the other things he said:
" I know West Ham are very good"
"Chelsea could have had a goal in the last 25minutes of the first half"
"We grew more into the game in the second half"'
"It is almost impossible to win every games, a point is okay"