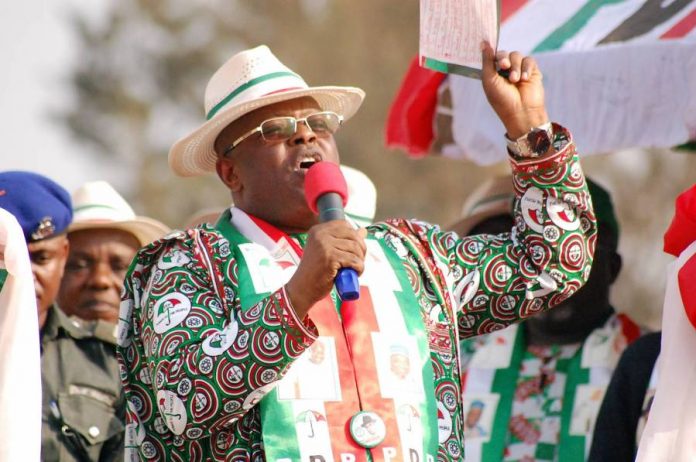 Chairman of the South-East Governors' Forum and Governor of Ebonyi state, Chief David Umahi, has insisted that the South-East geopolitical zone must be allowed to produce the next vice president of Nigeria in the forthcoming 2019 general election.
Umahi, who made this known while addressing PDP faithful at the Pa Ngele Oruta township stadium in Abakaliki, said the zone will only support a presidential candidate in PDP who will allow the South-East produce the vice president in 2019.
"We are good people. The leaders of the South-East will meet and never again shall we be marginalized and we must speak with one voice. And whoever we are supporting, the vice Presidential candidate must come to south east. We cannot compromise that" he said.
The governor also called on the independent national electoral commission, INEC, not to compromise in the forthcoming 2019 general election, adding that the continuous existence of Nigeria lies in the hands of INEC and security agencies.
He said that INEC must be born again to avert crisis in the forthcoming election.
"I just want to appeal to INEC at the national level and to our security agencies. The continuous existence of this country is in the hands of INEC and security agencies, especially in the 2019 general election.
"I read on newspaper where INEC is complaining about violence and insecurity of the lives of INEC officials. When you keep your hands clean, when you make promises of no compromise, expect no violence. It is when you compromise before coming to the field, that you can problem.
"But it can't work in Ebonyi state. I see the opposition in Ebonyi, especially the nine governorship aspirants, some of them are not qualified to even be a councillor. They are boasting that they will write result of election in Abuja but they can't do that in Ebonyi state.
"And so, they are expecting to write results and they will continue in wrong doing. At the right time they shall reap their fruit. Let them continue to deceive themselves that they will write result of election but they have been rejected by Ebonyi people," he stated.