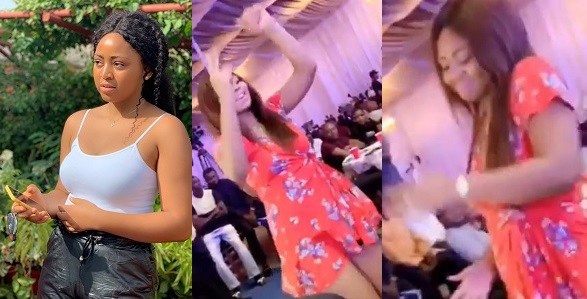 If there's one thing we're certain of, it's the fact that the news of the marriage of "teen" actress, Regina Daniels to a 59-year-old billionaire politician, is not soon to die down so long as the lovely continue to shove the controversy in our faces.
In a recent development of the actress's marriage brouhaha – amidst the speculations that she's expecting – the actress, who moments before taking a break from living her best life to having an outburst over her brother allegedly being assaulted by the Nigerian police, flashes a supposed baby bump while grooving on the dance floor.
We had first spotted her having a helluva time dancing too, with her spouse recently and then moments later, when we almost forgot her shenanigans – thanks to Aunty Tonto – we caught her dancing in a dress that has people seeing a supposed baby bump.
The rumours had flown aforetime that she's expecting but they were held with little regard as there isn't any proof yet that she actually is. This new video of her just might be the genesis of the truth of the speculations and at the same time, might only be paranoia that she actually is expecting.