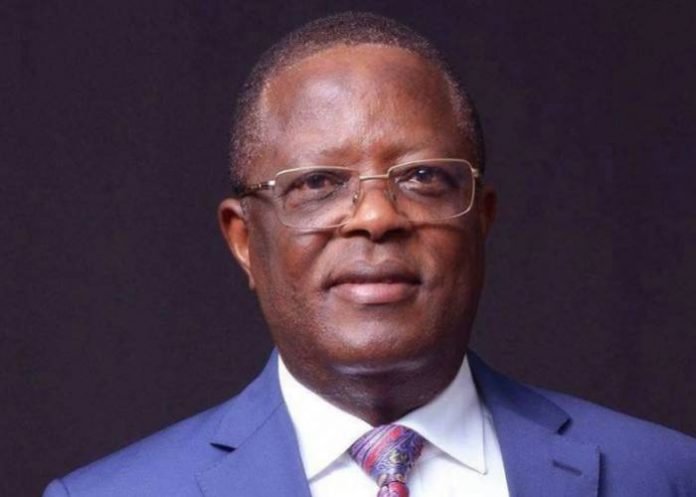 Governor David Umahi of Ebonyi State has revealed that the secret behind his ultimate success in the 2015 governorship elections in the State were the alters he built for God, where he also took solace in trouble times.
Umahi made the revelation on Friday while testifying during a testimony and dinner night organized by Christ the Redeemer's Friends International held at the Akanu Ibiam International Conference Centre, Abakaliki.
He described the election as the toughest battle he had ever faced in his lifetime.
He noted that in spite of all the betrayals and frustrating developments, regrettably engineered by those expected to be his close associates, the alter of God subdued all his opponents and landed him the governorship position to the consternation of all and sundries.
Describing the outcome of the elections in the State as a great testimony of the grace of God, he noted that life challenges were stepping stones for greater achievements, adding that forgiveness was germane to success in all man's endeavours.
Narrating his experiences during the Struggle, Umahi said he and his people were always hunted in several ways, including impeachment moves against him as the then Deputy Governor, induced betrayals from people he nurtured, as well as other humanly inexplicable devises.
He said amidst all, he would always sneak into the Christ Embassy Church, one of the cathedrals he built for God in Abakaliki, lie on the altar and talk to God in tears, God assured him that no man could harm him.
The Governor, who expressed optimism that the same God who crossed him through "the mighty ocean" would still do it even more exceedingly in 2019, noted that the building of the biggest and most magnificent Ecumenical Centre in the State was a fulfillment of part of the five-fold covenants he received from God during the struggle.
He added that the alter at the Ecumenical Centre, which he regularly inspects and prays on would team with the many other alters he had built for God to deliver victory to the Divine mandate, come 2019.
He warned betrayers to have a re-think, stressing that the grace of God upon his life makes it impossible for his betrayers to succeed.
Umahi, who further noted that God created everyone with some special gifts, urged political leaders in particular and all Christians in general to always be committed to God with both their intellect, wealth and other earthly possessions and emphasized that God rewards people's commitments to him.
Calling on leaders to always be ready to forgive their offenders, he recalled that the forgiveness he learnt from his late mother enabled him to forgive those who in 2011, destroyed his house and investments in the village for supporting former Governor Martin Elechi, adding that success is a fruit of forgiveness.
Today, he said, "God has given me a palace like that of King David in the Bible."
The Governor testified: "We are building the Ecumenical Centre, one of the five-fold covenants that God gave to us and it is the biggest Ecumenical Centre in Nigeria, and it is going to be the most beautiful.
"Everyone has got a gift but this gift you have in me is very dangerous; it is not by my making, it is not by my choice but I am already a sacrifice to God.
"The truth is: Am I committed to God? Yes.
"Can a man do me anything? It is not possible.
"When the struggle for this position was very tough, my Deputy Governor and my younger brother, Austin, we were trapped in the escalator 10 times in Abuja.
"One of the times, it lasted for 30 minutes and they were using axe to break it, about 1am.
"By the time they broke it, both the air conditioner and the light went off.
"And so, we would be hiding and we would come to the Church we built for God and we would lie on the alter and begin to weep and talk to God.
"God assured us that no man could do us anything.
"It was the toughest struggle I ever saw and encountered in my life.
"Then, I was to be impeached severally, but such plans were always foiled by God himself.
"The people stabbed me at the back; the same people I had watched, spoken with and nurtured for four years, all except the present Commissioner for Water Resources, deserted me, even relations.
"There has been no one that ever betrayed me, and I am saying it through the mercies of God, that ever succeeded in life, because I will never go against you.
"Remember the story of Cornelius in the Bible: when the Disciples of Christ told him to go to the house of Cornelius, Christ was not willing to go but when he was told that the man built a Cathedral for God, it made Christ change his mind and went.
"God is looking for people to enter into covenant with."
The organizer of the event and a senior pastor of the Redeemed Christian Church of God, General Obi Umahi, explained that Christ the Redeemer Friends International was a non-denominational Christian organization aimed at bringing people, especially societal elites and professionals all over the world, to Christ.
General Umahi, who is also the National Secretary of the organization, beckoned on Christians to always be willing to utilize their gifts to the service of God and mankind.
He described Governor Umahi as a unique born who from childhood, abhorred all forms of idolatry, while he committed himself to building of Churches for God.
In a sermon, titled: "Get Ready, Mr. Dust," the guest preacher at the event, Apostle Adekunle Jonathan, stressed that gathering of excessive earthly wealth was vanity.
Jonathan noted that everything owned by anyone was given to him from God and should be employed in serving God who would also demand accountability from all and sundry on judgment day, adding that no one carries his earthly endowments to the grave.
Apostle Adekunle praised the rapid infrastructural development brought by Umahi to the State and predicted that the Governor would be returned come 2019.
Adekunle said: "In 2013 when I visited Ebonyi State, I vowed never to return to the State
"But today the entire terrain has changed.
"As I arrived Abaomege from Cross River, the roads became so smooth and I could see a totally transformed State.
"Your Excellency, let me prophesy to you that you will be returned for a second term in 2019."
The event featured special songs from notable singers as well as prayers for the State and the country in general.
Author Profile
Raymond Onyebuchi is the Chief Editor and Web Developer at Naijawapaz Media. He has been publishing for over 6 years. He worked with some top media personalities in Nigeria like Munachi Abii. Raymond once owned a news website that ranked amongst the top 100 in Nigeria. He is tech-savvy, he loves gadgets and not really a fan of sports.