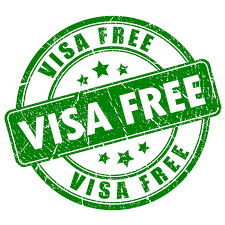 As of 1 January 2017, Nigerian citizens has visa-free access to 44 countries and territories, thus ranking the Nigerian passport 91st in terms of travel freedom according to the Henley visa restrictions index.
As of 2014, they were 49 visa free countries for holders of Nigerian passport,but currently it has decreased to 44 countries.
Nigerians can be found in almost every nation on earth,as a Nigerian citizen you can visit some of these countries freely,some will require you to obtain a visa once you arrive at the airport ie on arrival,while some will issue you a permit or a visa with a specific number of valid days.
Listed below is the list of Countries you can travel to,without visa.
Countries You Can Visit Without Visa For Nigerian Passport Holders 2019
Antigua and Barbuda = Electronic Entry Visa
Bangladesh = Visa on arrival = 30 days
Barbados = Visa not required = 6 months
Benin = Visa not required = 90 days
Burkina Faso = Visa not required
Cambodia = Visa on arrival= 30 days
Cameroon = Visa not required = 90 days
Cape Verde = Visa not required
Chad = Visa not required = 3 months
Comoros = Visa on arrival
Côte d'Ivoire  = Visa not required
Djibouti = Visa on arrival
Dominica =Visa not required
Fiji = Visa not required = 4 months
Gabon = eVisa= Electronic visa
Gambia = Visa not required
Ghana = Visa not required
Guinea = Visa not required
Guinea-Bissau =Visa not required
Iran = Visa on arrival = 30 days
Kenya= eVisa= 3months
Lesotho = eVisa
Liberia =Visa not required
Madagascar =Visa on arrival = 90 days
Maldives = Visa on arrival = 30 days
Mali = Visa not required
Mauritania = Visa on arrival
Mauritius =Visa on arrival
Micronesia = Visa not required
Mozambique =Visa on arrival = 30 Days
Nicaragua = Visa on arrival = 30 days
Niger = Visa not required
Palau = Visa on arrival= 30 days
Rwanda = Visa on arrival =30 days
Saint Kitts and Nevis =Visa not required = 3 months
Samoa = Entry Permit on arrival = 60 days
São Tomé and Príncipe = eVisa
Senegal = Visa not required = 90 days
Seychelles = Visitor's Permit on arrival = 3 months
Sierra Leone = Visa not required
Tanzania = Visa on arrival
Timor-Leste = Visa on arrival= 30 days
Togo = Visa not required
Vanuatu = Visa not required = 30 days
Zambia = eVisa
Zimbabwe = eVisa