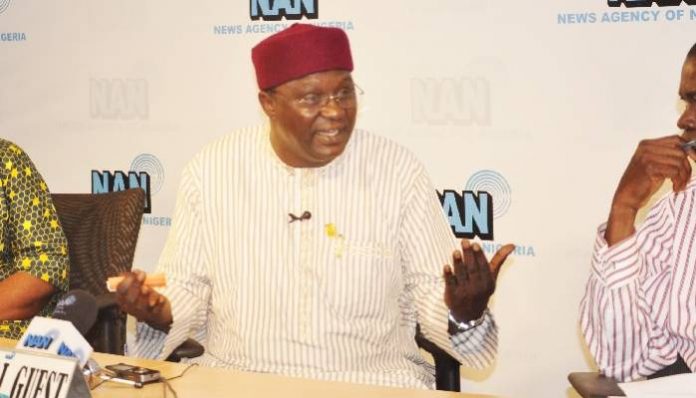 As the national minimum wage crisis continues to threaten industrial harmony in the country, Ayuba Wabba, National President, Nigeria Labour Congress (NLC), has given an insight into why Nigerian workers and pensioners suffer and groan under poor welfare.
He said that collective bargaining agreements between organised Labour and the Federal Government had over the years been heavily politicised and made to be a standpoint for political correctness by the political class.
Wabba gave the insight while delivering a goodwill message at the opening ceremony of the 2018 Joint National Public Service Negotiating Council meeting in Yenagoa, Bayelsa State on Wednesday.
According to him, the use of collective bargaining agreements in the public sector to leverage political correctness by the political class was a huge attempt at undermining the interest and welfare of workers and pensioners across Nigeria.
"In the public sector, collective bargaining agreements have been heavily politicised as a perspective to political correctness, devoid of genuine interest in welfare of workers.
"This is the reason many states are still owing workers' salaries and pensioners' allowances for gratuities and pensions", Wabba stated.
The NLC boss, however, commended Seriake Dickson, the Bayelsa State governor, for not paying lip-service to any agreement reached with organised Labour.
He said the governor's utterances and actions over issues bordering on government-Labour relations, had shown his understanding of the dynamics of collective bargaining and respect for the rule of law.
Wabba thanked the state government for playing host to the 2018 Joint National Public Service Negotiating Council meeting for two consecutive times (2017 and 2018), and expressed optimism that Dickson would be among the first governors to approve the payment of the new minimum wage when it is passed into law.
In an address, Didi Walson-Jack, Chairman of the Joint National Public Service Negotiating Council and Permanent Secretary, Service Welfare Office, Federal Civil Service, also gave kudos to Governor Dickson for his efforts at maintaining industrial harmony in the state.
Walson-Jack, who also appreciated the Head of the Civil Service of the Federation, Winifred Oyo-Ita, for her commitment to the welfare of civil servants, called on government and trade unions to continuously collaborate and embrace the principles of collective bargaining and mutual respect at all meetings.
Declaring the meeting open, Governor Dickson acknowledged the contributions of public servants towards policy implementation and national development, describing them as the drivers of progress in government.