Besides bringing peace to our soul, Ramadan is a perfect time for self-reflection and spiritual growth.
Perishable goods on display in popular Lagos market, Lagos. Photo credit: Esther Odili
Source: Original
It is the Islamic holiday that takes place during the 9th month of the Islamic lunar calendar.
During this period, Muslims all over the globe follow a particular routine by abstaining from food and various forms of physical intake for most part of the day as they try to attain moral and spiritual growth.
Meanwhile, prices of goods in markets across the state have witnessed an upswing. As traders see this period as the best time to make profit by adding to the cost price of various goods across the state.
In view of the above assertion, entrepreneurs and small business owners can tap into this opportunity and explore some business ideas that sail smooth this Ramadan.
The holy month not only increases the scope of several types of businesses, but existing business owners can grow their businesses this period. However, trying new ideas to make more money as an entrepreneur is also worth doing.
Below are some Ramadan business ideas by Wapaz that will fetch one good profit but requires good marketing skills and small startup capital:
FOOD ITEMS
These food items sells faster this season and becomes expensive in markets across the state because the demand and cost price are higher. Photo credit: Esther Odili
Source: Original
During the month of Ramadan, food items sell fast because food consumption increases; as families feast in the evening after many hours of not eating and in the early hours of the day, as they commence the fast of the next day.
In this period, there are some food items that sell fast and most families spend more money in preparing healthy delicacies leaving traders with no option than to increase the cost of purchase and shortages of certain types of food.
Food items like tomatoes, pepper, rice, rice, yam bread, garri, wheat, and semolina to mention but a few sells fast during the month of Ramadan.
Perishable items can also fetch you good cash this season. Photo credit: Esther Odili
FRUITS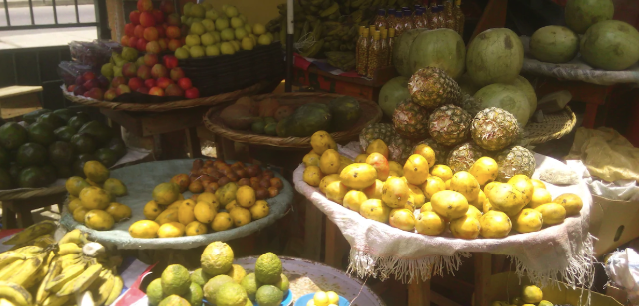 The demand for fresh and healthy fruits is always high during Ramadan. Photo credit: Esther Odili
One business idea that you cannot go wrong with in the month of Ramadan the fruit business.
And you can get these fruits at affordable prices in major markets across the state and resell at reasonable rates.
The demand for nutritious foods and fruits along with homemade drinks and water are always in quite demand during Ramadan. In thus, this is an opportunity for small business owners and entrepreneurs to make good profit.
You can sell fresh and healthy fruits like oranges, apple, pineapple, and watermelon, date palm popularly known as 'Dabinu or Eso' at your own convenient time and get good profits in return.
These are some of the few of the several businesses that grow steadily during the whole month of Ramadan.
This is one fruit that is available in most markets across the state. Photo credit: Esther Odili
SELL ISLAMIC BOOKS
You can purchase Islamic books in popular markets and resell at affordable rates. Photo credit: File Photo
During Ramadan, reading is a sure way to learning and developing oneself as it enriches your knowledge and stimulates the mind. For some Muslims', Islamic books help you travel back in time, explore the history and culture of historical people and places.
Great Islamic books especially the Quran sells faster during the month of Ramadan because Muslims' find it important to read more about Islam.
Combining your resources with this business idea is a good initiative you won't regret.
SELL CLOTHES
This season, hijab, scarf, socks, and other wares attracts good sales. Photo credit: File photo
Ramadan ends with a joyful festival of Eid. In some part of the world, Muslims starts preparations for Eid after half month of Ramadan. Selling clothes and jewelry at this time won't be a bad idea as they would love to look good after the fast.
Ramadan has become one of the most important periods of the year in various markets across the globe as business men and women make good use of the season to explore their creative minds and then make profit in return.
As a trader, selling good clothes during Ramadan is an important business idea that brings huge profit, because consumers love to shop for new wares for the Eid-al-Fitr celebrations. Items like leggings, scarfs, hijabs, caps; sari's and gowns sells faster now because most Muslims wear them to show the relevance of the season in Islam.
In most countries, jewelry is not an accepted accessory but it is sure one business idea to embrace during the holy month of Ramadan.
And for some who want to extend their heart felt feelings in this holy period, jewelry is a popular gift item for loved ones during the Ramadan and Eid-al-Fitr.
If you cannot afford to get a shop, you can rent a stand or a build a stall and put your wares on display for sale. the location does not really matter as some sell by the roadside of street, junction and even at the front of their house.
Good wares like long gowns and skirts sell fast during Ramadan. Photo credit: File photo.
You will definitely not lack profit after considering this business ideas as there are lots of attached to this holy month and revered by many.
DRINKS
During and after Ramadan, this business idea is very profitable. Photo credit: File Photo
This period, selling water, soft drinks, tea and zobo is profitable because most buyers cannot do without these items in the month of Ramadan. Either chill or cold, these drinks will calm one's nerve. And its sweet nature makes it sells faster. They really do not require huge start-up capital.
Water is important to the human system and is one of the things that signify one is indeed fasting. There is no reason to doubt the profit one can gain from this business in just two weeks after consideration. A trial will sure convince you.
It is important to note that Ramadan occurs every year and unlike the Christian festival (Christmas), its dates and timing changes annually since it follows a lunar calendar.
These business ideas is an opportunity that can be availed not only by companies, retailers or wholesalers but also by business minded fellows who wants to make cool cash during and after the holy month; because, they are just few of the several businesses that grow steadily during the whole month of Ramadan.