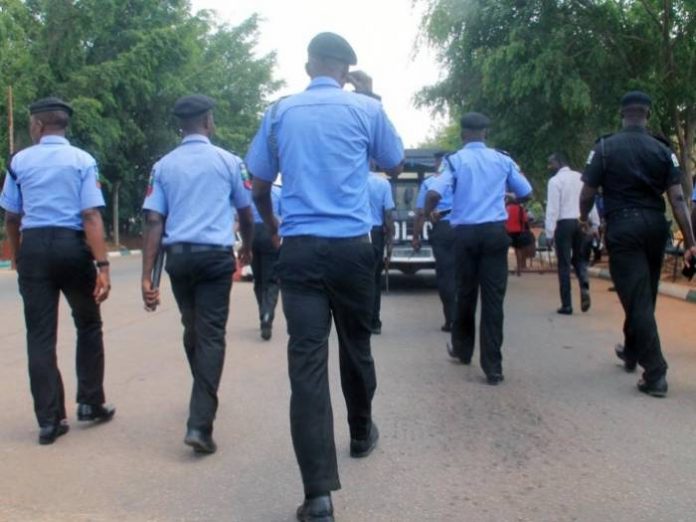 The Police in Cross River State have arrested twelve Cameroonian mercenaries with charms and dangerous weapons.
The suspects were arrested at the Ediba/Ugep junction by the Mobile Police team deployed to the war torn areas of Usumutong, Ediba, Ebom and Afafayin communities in Abi local government area of Cross River State.
The suspects were arrested on Tuesday November 27, 2018 when the Mobile Police team conducted stop and search.
A source said "they were caught on the way to Ediba to fight Usumutong people."
"They were armed with charms and other dangerous weapons of wars. They came in a red Sienna bus still parked at the Police Area Command Ugep. These people were hired by Ediba to terrorize Usumutong community," he alleged.
The village Head of Usumutong, His Royal Majesty (HRM) Oval Solomon Osım Edward who spoke to newsmen on Thursday on phone alleged that the twelve Cameroonian mercenaries were hired by Ediba people to eliminate his community.
"They were arrested at a check point. They said they were asked to come and destroy plantation, they described us (Usumutong community) as plantation, these people are evil, they wrapped charms around their bodies", he stated.
But the Village Head of Ediba Uvara Imong Anani debunked the allegations, describing it as rubbish.
"It is a rubbish, since the beginning of this trouble, I have not been on my seat, Ediba people have not hired anybody, these are Cameroon boys, I don't know them.
"But people have been telling me that the Cameroonians have been coming here to meet one of our son who do Odeshi, (local power to prevent penetration of bullet into the body) and that was what I was told yesterday (Wednesday)
"You know that Cameroonians are at war, somebody called me and I told him I am not there, I don't know anything, how can we hire people to go and fight war when we have over 500 boys who can fight war, hire what? It is a false, real false.
"I am telling you before God and man, those boys are on their own, let them interview them very well.
"Ediba man cannot hire anybody to fight his brother, fight who? The issue about Ediba and Usumutong is between brothers, no matter what is the problem, no matter what Satan is doing, Ediba people are not supposed to fight with Usumutong people," he stressed.
Reacting, the Police Public Relations Officer, Ms Irene Ugbo, told newsmen on phone on Thursday that on interrogation, the suspects, 12 of them, admitted that the charms found on them are for self protection during war.
"The Police stopped them at the junction of Ediba/Ugep junction. Police were there on stop and search. The incident occurred around 7.30pm on 27th Nov 2018 (Tuesday).
"About 12 of them were arrested, they are Cameroonians, they just came into Nigeria and were hired by Ediba community, all of them were with charms in their waist.
"They said they were brought in to fight war with Usumutong community, our team of Mobile Police men on stop and search arrested them," she said.